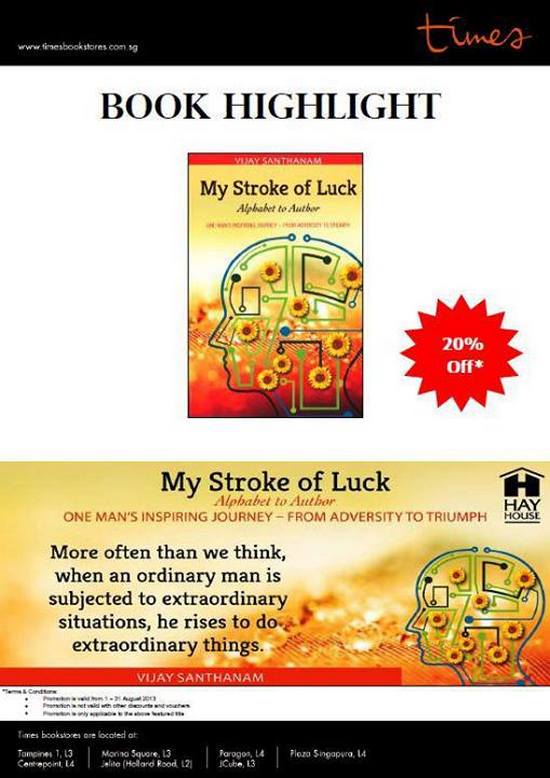 A Stroke Cannot Let Anybody Down…
When Vijay Santhanam was afflicted with a stroke at the age of 41, he was paralyzed on the right side of his body. He couldn't move without help and he couldn't speak at all. But he soon realized that his powers of reasoning/thought were not lost to him. And he garnered his spirit and willpower within him to work at regaining his health and faculties; a stroke wasn't going to get him down.
Vijay goes on to get back to work, to write two books on one of the biggest passions of his life—cricket, a sport that was one of his greatest inspirations while in hospital and on the road to recovery, and to teach at IIM Ahmedabad and IIM Lucknow.
This is the inspiring story of a man who didn't waste time bemoaning his fate; his immediate agenda was to understand what could make him healthy again and to start with, to return to the life he'd known before as a regional head of marketing in a multinational company in Singapore. My Stroke of Luck: Alphabet to Author is Vijay's journey through long, sometimes painful, and often frustrating, months of therapy, relearning the
alphabet and learning new strengths: emotional, mental and physical.
Vijay's attempt is not to describe the human brain and how it works in a scientific manner but to celebrate a man's inspiring journey. He believes when a human being is confronted by a big crisis, often she/he summons all her/his spirit and willpower to fight back and win. His story is testimony and an eloquent example of it.
Grab your copy this month at 20% OFF in all Times bookstores.